you have been mate-matched with Zorn!
Welcome to the Alanaverse! The Intergalactic Database has searched far and wide and indicates Zorn, the Draalian, would be your perfect match.
Stolen from his planet when he's on leave after years at the front, this reptilian will be delivered to your home by your interfering mother. What to do with an angry Draalian in a cage? Make a batch of brownies and watch as he gets hard just watching your lips wrap around Every. Single. Bite.
Why don't you decide to go on an illegal road trip in a van full of sex-bots to help this brother out?
Love Uncaged: An Earthbound Alien Romance
Annora
Most men on Earth died ninety years ago. I've never even seen one. To preserve our population, authorities now allow aliens to mate with select women. Driven by a misguided need to provide me a mate, my mother buys a black market Draalian and locks me in with him hoping our chemistry will ignite. Didn't she know I find his reptilian species repulsive? Although I help him escape, I don't expect to enjoy his company. I definitely never dreamed I'd yearn for his touch.
Zorn
When Annora agrees to help me find my brother, I have no idea our lives will be in danger on our desperate cross-country chase. I can't help falling more deeply for this feisty, resourceful woman with every mile we travel. It's too bad I can't stay.
Love Uncaged, written by Pinnacle Award winning, bestselling author, Alana Khan, is part of a collaboration of authors collectively known as Cosmic Kissed. Love Uncaged has no cheating, no cliffhangers, lots of steam, a marauding sexbot army, and a guaranteed happily ever after.
Also by Alana Khan, Love on Impact depicts Zorn's brother's adventures as he crashes into love on Earth. Both books can be read in any order.
Publisher's Note: There are sensual, graphic sex scenes throughout the book. Intended for readers 18+.
the next book in the series: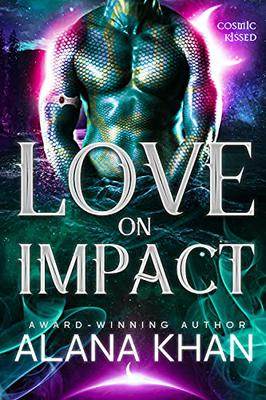 Sold, caged, and expected to mate, Zorn is furious at his captors. He and the brother he's psychically linked to were stolen by pirates and delivered to Earth. Confined with a free-spirited woman who had no part in his kidnapping, he is surprised by their unexpected passion. Compelled by an urgent need to rescue his brother, he has no intention of falling in love. Is it too late?