DOWN TO THREE: a genetically engineer proteective heros alien romance
Win or Die. There is no second place in the Galaxy Games.
Ripped from Earth and thrown into The Game, Willow is teamed with two genetically engineered alien males in a treacherous race to the finish line.

The three must endure the grueling landscape, ruthless competitors, and evil gamemasters.

The only thing keeping Willow alive is the humanity of her inhuman teammates.

Is it possible for affection and tenderness to bloom under The Game's cruel challenges, ever-present camera drones, and constant threat of death?

Only one team will make it out alive. In the end, it all comes Down. To. Three.

Are you brave enough to join Willow, Valor, and Braveheart on their adventure as they dodge death and discover their profound attraction?

Award-winning author Alana Khan departs from usual style in this gritty standalone novel that combines the romance and heat you love with a savage struggle unlike anything you've read from Alana before.

This book contains violence and a sensuous M/F/M connection. For readers 18+.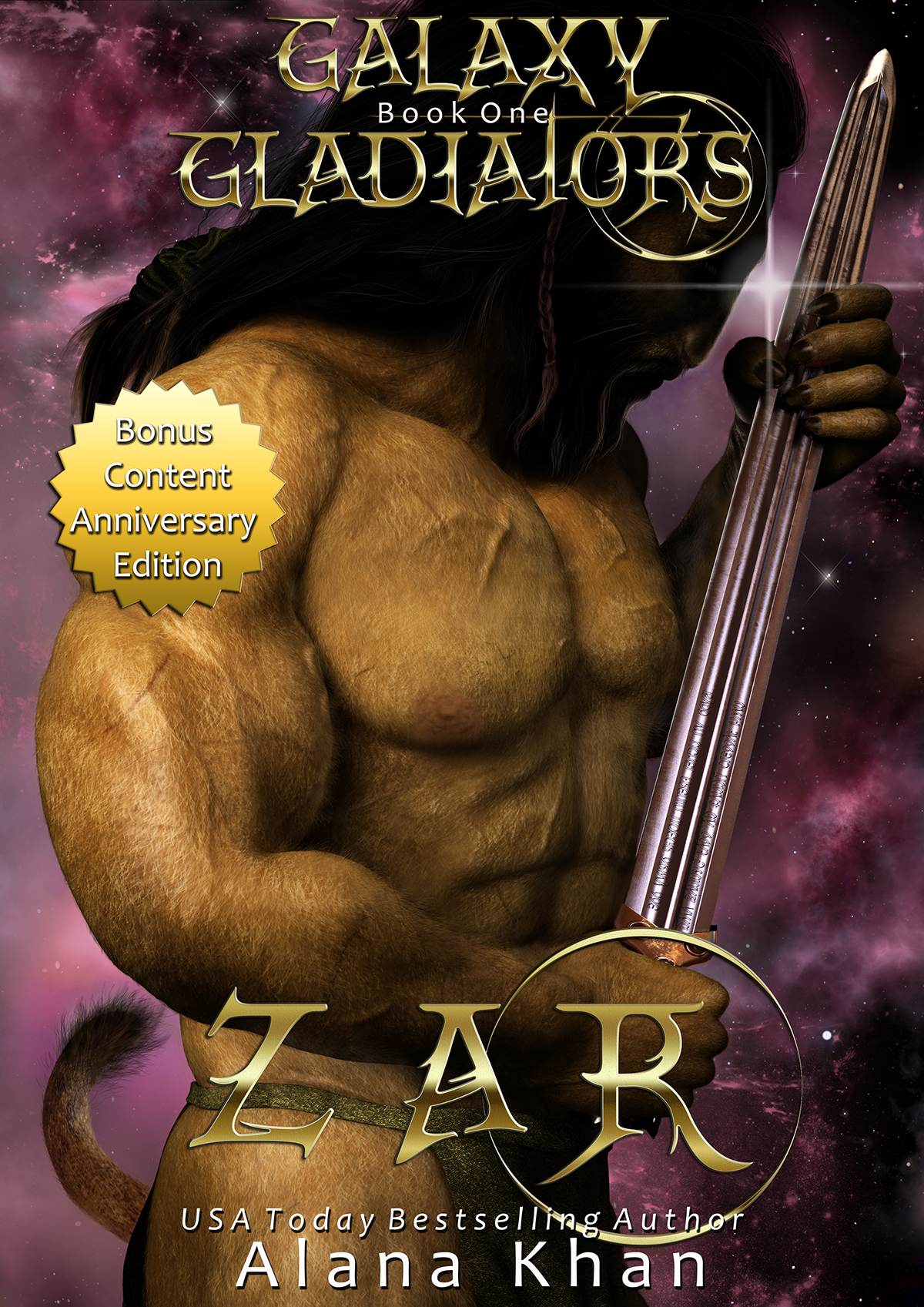 Zar: Third Anniversary Edition. A Tortured Hero Alien Warrior Romance Kindle Edition
Third Anniversary Edition contains NEW BONUS CONTENT including a spicy, heartwarming epilogue.
Kidnapped from Earth, then forced aboard a slave ship, Anya is tossed into a cell with Zar, a handsome half-lion gladiator. They're given the choice to breed or die. Will they overcome their disastrous beginnings and find love among the stars?
Zar
My life is an unbroken nightmare: sleep, eat, fight, repeat. I'm not interested in helping Anya, and I'm definitely not interested in love. Except she's the first female to ever touch my heart—or remind me I have a soul.
Anya
Even if we can't return to Earth, there has to be a way out of this prison. I'll just have to convince the angry lion-guy who shares my cell to help me. I never would have dreamed my cellmate would have more humanity than any human I'd ever met, or that I'd fall in love.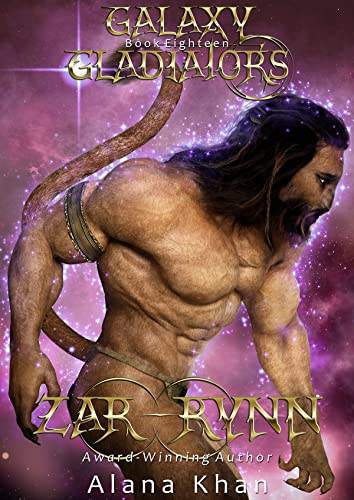 Zar-Rynn: A Tortured Hero Alien Warrior Romance (Galaxy Gladiators Alien Abduction Romance Series Book 18) Kindle Edition
Their love will face the ultimate test.
Just days after meeting, Zar and Anya planned and executed a slave revolt, freeing themselves and their friends from their evil masters. For the past three years, these truemates traveled the galaxy righting wrongs, and freeing slaves.
Their love is a beacon, an exquisite linking of body and soul. What threatens their mated relationship couldn't be predicted or prevented, and cannot be reversed. Can love this deep transcend even the most devastating struggles?
Zar-Rynn is the sequel to the beloved, Pinnacle Award-winning first book in the Galaxy Gladiators Series, Zar.
New to the series? Zar-Rynn will give you all the backstory you need. Already a Zar fan? Fasten your seatbelt because you're in for a wild ride. I promise, you didn't see this coming!
For readers 18+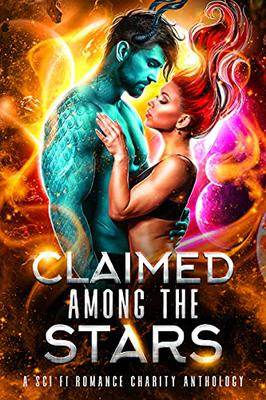 Claimed Among the Stars: A Sci Fi Romance Charity Anthology
Make contact with the hottest alien anthology in the universe!
Claimed Among the Stars will rocket you to reading bliss with more action, adventure, and pleasure than one planet can contain. Curl up with this collection of wild and wonderful heavenly bodies and venture to the unknown worlds that only your favorite sci-fi romance authors could create.
Hearts in zero gravity are free to fall, and destiny awaits unsuspecting heroines far across the galaxy. Whether you love a trip that's nice and easy or dark and intense, this collaboration of more than fifty bestselling authors is guaranteed to please. Embrace the heat, the sweet, the dark, and the depraved, and grab your copy of Claimed Among the Stars today!
A word of warning: this anthology is only available for a limited time, so grab your copies now before they blast off forever.
Valeris: A Sweet and Spicy Alien Cinderella Retelling (Galaxy Gladiators Alien Abduction Romance Series Book 19)
How can a planet capable of interstellar spaceflight use such an outdated method to pick the queen? It leaves everything up to the whims of the Alagan River.
Avania
No female in a hundred years has succeeded in plucking the red flower from the rushing water, a feat which guarantees her mating to the king.
I'm still dripping wet and shivering when I'm ripped from my mother's arms and dragged to the palace. Within hours, the high priestess has performed the mating ceremony binding me to a male I've never met–the King.
I never dreamed the fierce ruler would treat me with such affection that he would crack open my heart… or set my body ablaze.
Valeris
The river may have picked her. I may be forced to mate her. But all the outmoded expectations of my ancestors can't prevent me from banishing her to the East Wing once she presents me with a son.
How did the fates know this naive country female was more than my perfect match? She was the other half of my soul.
This sweet and sensual Cinderella retelling hits all the right notes from romance to spice. It features a happily ever after with no cheating and no cliffhanger.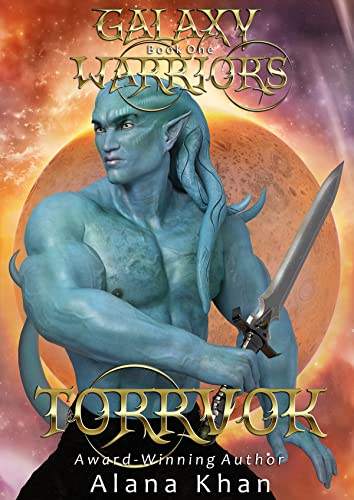 TORRVOK: A WARRIOR-PROTECTOR ROMANCE
Torrvok, a cunning and skilled warrior, protects Sierra from enemies who hunt them without mercy. But can he keep her safe from the raging beast writhing under his skin?

Sierra
He rescued me—twice—then protected me on a dangerous chase across a continent.

Despite his warnings not to trust him, when we're together I'm only aware of the pounding desire his presence ignites.

Torrvok
My enemies kept me in stasis for over a decade. They modified my body while they stole my life. Now I have more power than I ever dreamed, but I live in fear it will unleash on the courageous human in my care.

All I want is to protect her because she may not know it yet, but she is mine.

You'll adore this first book in the Galaxy Warriors Alien Abduction Romance Series by award-winning author Alana Khan.

No cheating. No cliffhangers. Guaranteed happily ever after. There are graphic fighting and sensual love scenes throughout the book.
Readers 18+.
ROKLYN: A FAKE MATE ALIEN ABDUCTION ROMANCE
To stay alive, Roklyn buried his emotions. Can he risk everything to trust the ailing Earth girl he's sworn to protect?
Paige
I've come to this medical center to save my life. My grumpy but intriguing bodyguard can receive services also, but only if he's my "mate." What's the harm in being generous? Forced to share a bed with the sexy-as-hell alien, I find there's more to Roklyn than I dreamed possible. Can I entice him to ignore his self-imposed restraints and roll over to my side of the bed?
Roklyn
I've spent so much time stifling my emotions, I don't believe I have them anymore. But if that's true, why am I willing to risk my life to keep her safe? And why, despite my attempts to conquer it, does my body pulse with desire for the strong-willed little Earther?
You'll adore this second book in the Galaxy Warriors Alien Abduction Romance Series by award-winning author Alana Khan.
No cheating. No cliffhangers. Guaranteed happily ever after. Tropes include: Grumpy/Sunshine, Fake Mates, and Bodyguard. There are sensual love scenes throughout the book.
Readers 18+