The Yearning: A Protective Robot Rescue Science Fiction Romance
Stranded on a deserted asteroid with only a robot for company, Eve discovers circuitry can have more heart and soul than anyone she's ever met.

Eve
It's hard to imagine things could become more desperate than being abducted by aliens, but I'm even more terrified when I wake up to a huge, faceless metallic robot. I never dreamed 420 would crave my body, have the soul of a poet, or would soon own my heart.

420
I've been alone on this barren asteroid for hundreds of years. When Eve crashes here, she's a gift from the stars. Now I must battle both nature and our enemies to protect the female who is more important to me than life itself.

Join Eve and 420 as this pile of metal turns into the hunky man of her dreams in book one of the Galaxy Artificials written by USA TODAY Bestselling author Alana Khan.

No cheating or cliffhangers in this steamy romance. Guaranteed love and happiness ever after. Readers 18+.

Publisher's Note: This book was originally published in the Claimed Among the Stars Anthology.
The Awakening: A Slow Burn, Friends to Lovers Science Fiction Robot Romance
From a bucket of bolts to the "man" of her dreams.

Addy
My three years in space were not kind to me. Now that I've been rescued, my antique robotic companion gives me a sense of safety and comfort.

Until…someone tinkers first with his programming, then with his metallic carcass.

How do I put my fears behind me now that he's a sexy humanoid hunk whose only desire is to care for and protect me?

Unixx

The transition from thinking in ones and zeros to sentience wasn't easy, but it was child's play compared to coping with emotions.

I'm a robot, so my feelings can't be love, can they?

Although I'll do anything to help Addy feel safe, will her fears keep my final masculine upgrade lying in a box in the workshop?

Join Addy and Unixx as this pile of metal turns into the man of her dreams in book two of the Galaxy Artificials written by USA TODAY Bestselling author Alana Khan.

No cheating or cliffhangers in this steamy romance. Guaranteed love and happiness ever after. Readers 18+.
The Forsaken: A Slow Burn, Forced Proximity, Warrior-Protector Science Fiction Robot Romance
It was insanity to choose her enemy's Hunter/Killer robot to help her escape.

Jessica
I've been alone so long I must have gone space-mad. That's the only explanation for feeling like I'm falling in love with the robotic soldier I've programmed to fly me to safety. Though his metallic carcass is brimming with weapons in every hidden crevice, his mind is now filled with the sweetest emotions.

No! Wait! It's not a mind, it's a chip. No one who looks like that could ever fulfill my needs. His name is short for Hunter Killer for goodness sake. There's only one place this forsaken relationship is headed. Disaster.

HK499

Heartless, abusive, and cruel. How else would you describe reprogramming that gave me enough sentience to love a human female while it keeps me in a metallic body designed to kill?

The best thing for all concerned would be for me to deliver her to safety and then fly away. If I really love her, I'll never contact her again so she can mate with a flesh-and-blood humanoid who can meet all her needs.

She deserves better than me, doesn't she?

Join mature heroine Jessica and HK as they search for safety while developing a heart connection that transcends flesh and blood in book three of the Galaxy Artificials written by USA TODAY Bestselling author Alana Khan.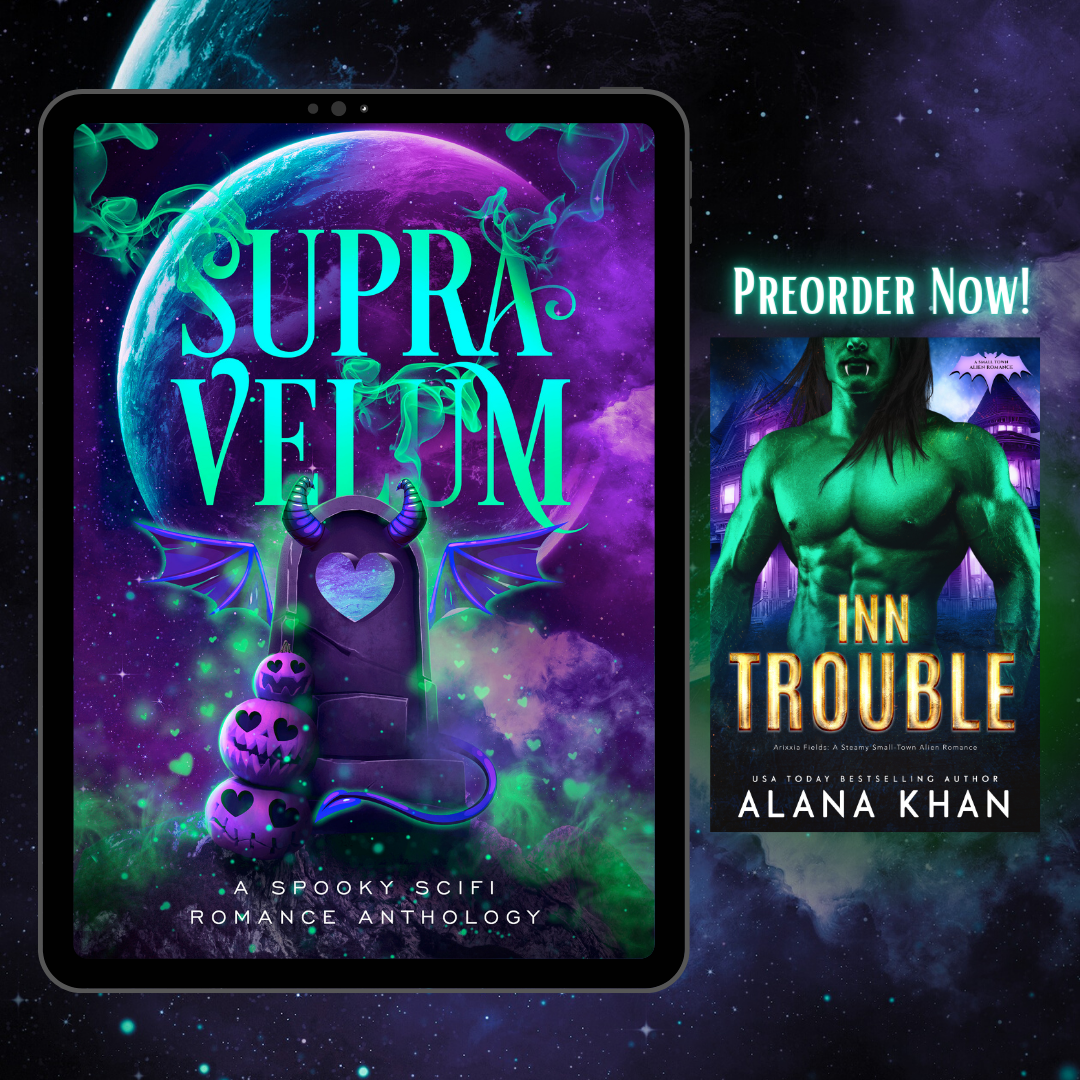 Supra Velum: A Spooky Scifi Romance Anthology
Misty, spooky love and trouble;
Tails, horns, and frightful cuddles.
We spin our threads, we authors many,
Of horror, sweets, ghosts, and frenzy,
So you may sup on alien peen,
To quench your thirst this Halloween.

Wander beyond the veil into a spooky season of scifi romance tales written by some of the genre's most influential authors and rising stars. From cute and sweet to horrific and death-defying, these tales span the breadth of Halloween vibes with everything from zombies and curses to costume parties and haunted trails.

These exclusive tales are written by:
Alana Khan, Alma Nilsson, A.M. Kore, Ami Wright, Ava Ross, Bebe Harper, Bella Blair, Chloe Parker, Deysi O'Donal, Erin Hale, Etta Pierce, Harpie Alexa, Holly Hanzo, Honey Phillips, Iona Strom, Ivy Knox, Jade Waltz, Cleo Rose, Kahaula, Kassie Keegan, Latrexa Nova, Marlowe Roy, Michele Mills, Nancey Cummings, Olivia Riley
R. K. Munin, Rowan Merrick, SJ Sanders, Trish Heinrich, V. C. Lancaster, Vera Valentine, Veronica Scott, Vicky L Holt

This is a charity anthology. All proceeds will go to the Native Justice Coalition's LGBTQI+ and Two Spirit Program. If we make our goals, excess profit will go to emergency Native relief.
Doctoré: An Age Gap, Protective Hero Alien Romance
Ayla needed to be rescued. Doctoré didn't realize he was the one who desperately needed saving.
Ayla
Who said the universe doesn't have a sense of humor? After being abducted and living in hell for three years, I escape straight into the protective arms of the sexiest, most decent male I've ever known. The funny part? He's chosen to live a monastic life that has no room for me.
Doctoré
Finally free after a lifetime of cruel treatment, I wanted to live out my remaining years in peace. Ayla is sensual, spirited, and far too smart to miss the eager arousal I try to hide under my loincloth. How can I resist the tempting human who came hurtling into my life?
This sweet and sensual age-gap romance from USA TODAY Bestselling author Alana Khan is full of hurt/comfort, found family, and spicy goodness.
No cheating, no cliffhangers, and a guaranteed happily ever after. Warning: It contains graphic sex and violence.
Embers Ignite: An Age-Gap, Second Chance Orc Firefighter Romance (OrcFire Book 1)
Bound by passion, shattered by deceit.

Marissa
The Others have been on Earth for 25 years, but I'd never met one until the huge orc Fire Chief landed in the ICU as my patient. He's rude, snarly, and covered in tattoos. A girl would have to be out of her mind to want someone like him, right? I guess I'm out of my mind.

Actually, I'm obsessed.

It's hard to see past his snarls to find the squishy guy he hides inside, but I do. One kiss leads to another, and before I know it, well, I discover he's not snarly all the time.

Until he learns my secret. I never meant to hurt him, but now he won't have a thing to do with me.

Brokka
Being dragged through the Rift and spit out onto this planet with nothing more than the clothes on my back wasn't the worst thing in my life. Losing everyone and everything I'd ever cared about was far more crushing.

Tender Marissa with her courage, caring, and delicious curves is the perfect reason for me to let go of my past. Until I discover our relationship is built on a lie. How can I love a woman I will never be able to trust?

Enjoy this age-gap, second-chance romance as Brokka and Marissa battle people in both their worlds, risking everything they hold dear to be together.
Embers' Melody: A Forbidden Love, Bad Boy, Protective Hero Orc Firefighter Romance (OrcFire Book 2)
The very day Emma swears off impulsive choices in love, she encounters Kam, an orc firefighter who sets her world ablaze.

Emma
After my dirtbag ex left me with a maxed-out credit card and an empty fridge, I swore off bad boys. Yet, when brooding Kam enters my life with his otherworldly tattoos and an air of danger, I can't seem to hold myself back. How can someone so wrong feel so irresistibly right?

Kam
Trapped in a fenced slum built to contain Others like me, my anger toward a world that despises me has always burned fiercely. Only Emma sees past the beast within me and embraces who I truly am. Can I heal my old wounds and express my passion for this precious female? One thing is clear—I would give my life to protect her.

Indulge in this sizzling tale of forbidden love, as USA TODAY Bestselling authors Alana Khan and Aria Vale take you on a thrilling journey as Emma and Kam are trapped together as they try to bridge the gap between their worlds.

No cheating or cliffhangers in this steamy romance where a big, green orc loves to tell his female what a very good girl she is. Guaranteed love and everlasting happiness.

For readers 18+.
Embers of Change: An Enemies to Lovers, Fearless Hero Orc Firefighter Romance (OrcFire Book 3)
Mouths can lie. Scents can't.

Amelia
Mesmerized, I couldn't look away as the biggest of all the orc firefighters fearlessly charged into the blazing building to rescue not one but two trapped children when no one else dared to enter. Imagine my surprise when, in my quest to find shelter for the displaced, I'm assigned to work with the heroic male who has invaded my dreams.

Thrall
I'm reckless. So what? I couldn't let those naga children die. It seems my boss doesn't agree. My punishment is to show some prissy do-gooder around the Zone. She'll freak within ten minutes and it will be a good story to laugh over.

Amelia doesn't run, though. She blasts into my life wearing a determined expression, irresistible curves, and an arousal scent that can be detected in the next county.

If she's as sweet as she smells, I'm well and truly f*cked.

Dive into the Embers of Change, a sizzling tale of forbidden love, as USA TODAY Bestselling author Alana Khan and Aria Vale take you on a thrilling journey of forced proximity and romance across different worlds.

No cheating or cliffhangers in this scorching romance, just a strong orc who loves his very good girl. Guaranteed love and eternal happiness await.