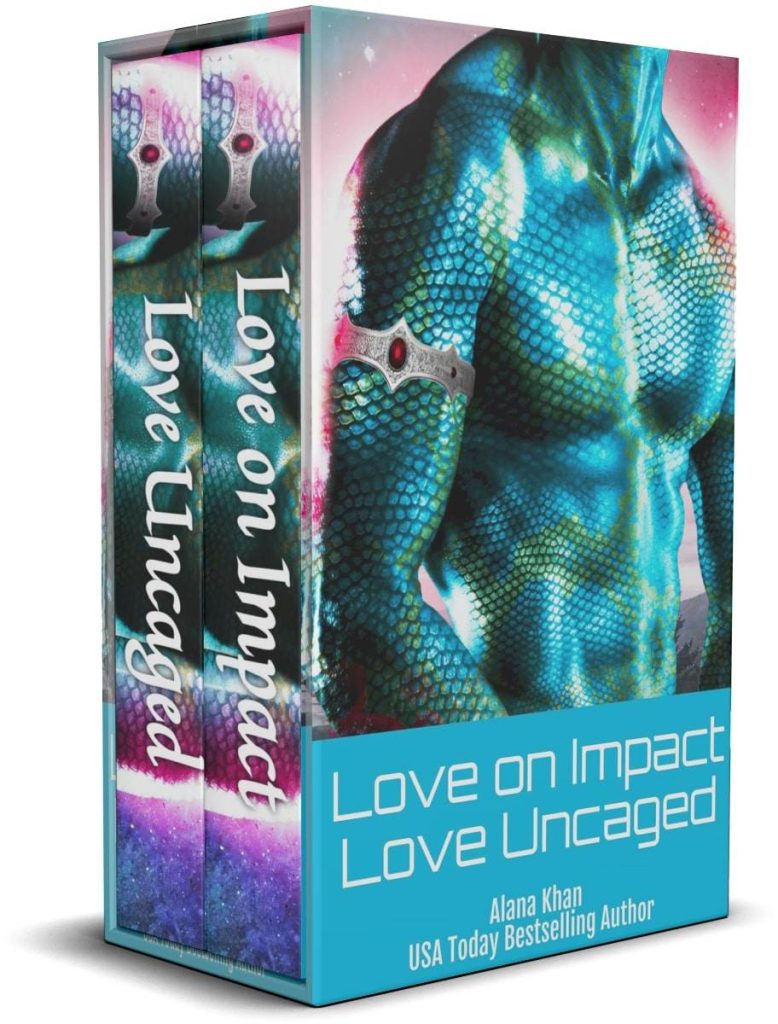 Alana Khan's Cosmic Kissed Duet Box Set
Both of Alana Khan's books from the Cosmic Series are bundled in this fun and steamy duet.
Love Uncaged: An Earthbound Alien Romance
Sold, caged, and expected to mate, Zorn is furious at his captors. He and the brother he's psychically linked to were stolen by pirates and delivered to Earth. Confined with a free-spirited woman who had no part in his kidnapping, he is surprised by their unexpected passion. Compelled by an urgent need to rescue his brother, he has no intention of falling in love. Is it too late?
Annora
Most men on Earth died ninety years ago. I've never even seen one. To preserve our population, authorities now allow aliens to mate with select women. Driven by a misguided need to provide me a mate, my mother buys a black market Draalian and locks me in with him hoping our chemistry will ignite. Didn't she know I find his reptilian species repulsive? Although I help him escape, I don't expect to enjoy his company. I definitely never dreamed I'd yearn for his touch.
Zorn
When Annora agrees to help me find my brother, I have no idea our lives will be in danger on our desperate cross-country chase. I can't help falling more deeply for this feisty, resourceful woman with every mile we travel. It's too bad I can't stay.
Love on Impact: An Earthbound Alien Romance
Abducted by space pirates to breed human women, Zoriss is one angry male when he hits atmosphere. After breaking his bonds and stealing an escape pod, he crash lands in remote Idaho. When Lumina rescues him, their bodies communicate beautifully, but with translator troubles, could he ever grow to trust her?
Lumina
It's been ninety years since the last man was born on Earth. When the government allows three alien species to help us repopulate, I set my sights on a Draalian male. It felt like winning the lottery when one literally fell from the sky. What should have been a dream turns into a nightmare when I'm stranded in a remote cave with the galaxy's most pissed off male. Because of our language barrier, I don't understand why this intriguing male is so angry, but under the covers our bodies speak eloquently.
Zoriss
Not only was I abducted and brought to another planet, my stasis capsule malfunctioned. Instead of drifting into unconsciousness, I stayed awake for three interminable months unable to move or even scratch an itch. There was a lot of time to think during my journey, but only one thought pulsed through my mind. Revenge!
Although I want to blame her, Lumina's gentle touch and affection soften my heart, and her passion sets me on fire. Learning my brother is in peril, I have to rescue him. Must I choose between my brother and the woman I've grown to love?
Both books are written by Pinnacle Award winning, USA TODAY bestselling author, Alana Khan. This book has no cheating, no cliffhangers, and a guaranteed happily ever after.
For Readers 18+