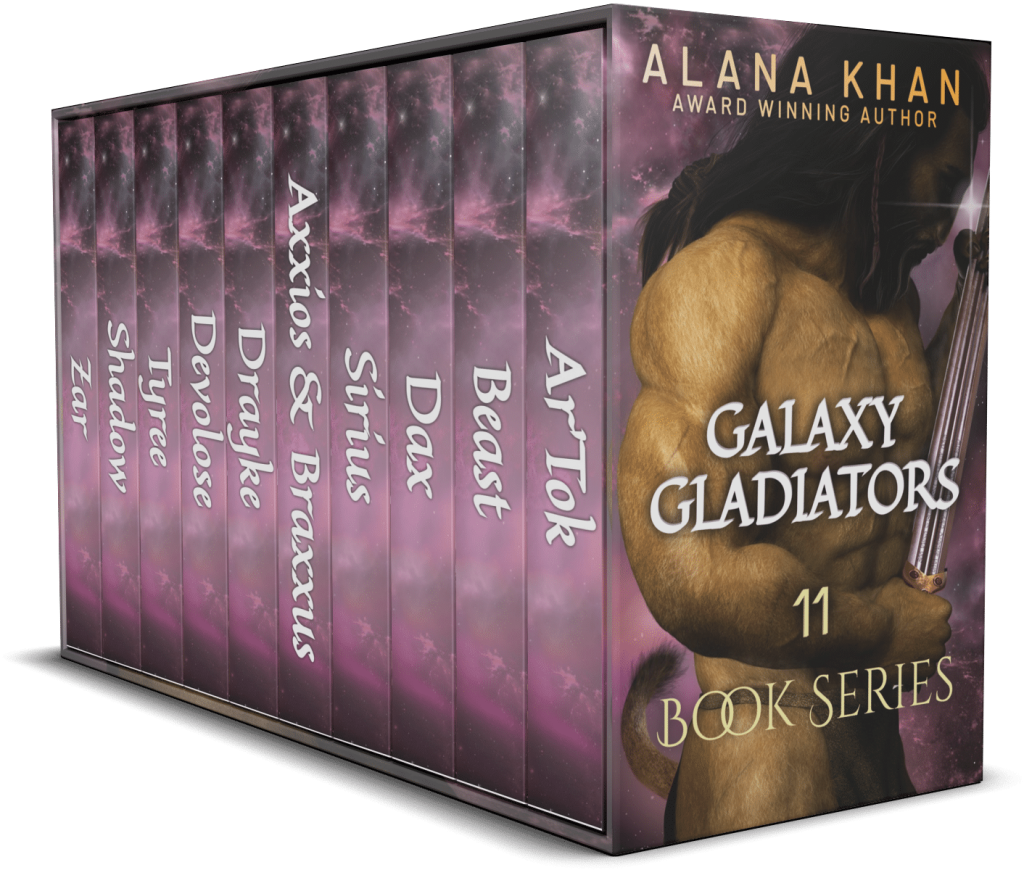 Galaxy Gladiators Romance Box Set Books 1-10 Plus a Bonus Novella: An 11 Book Sci-Fi Series with Soulmates, Fake Mates, Captains, Pirates, Rescues, and Adventures
"Love Alana Khan!" Amazon Reader
"I adore these books. Alana Khan has created such an amazing world with amazing males of different races." Amazon Customer
"It is a great series… they are all so different." Amazon Reviewer
These gladiators are roaming the galaxy on a quest to right wrongs, never dreaming they're going to find the female who will complete them.
Book #1: Zar. His heart was a block of ice wrapped in chains… until Anya's love thawed it.
Book #1.5 Terminus. Before he became Shadow, Dakon was a privileged playboy… until the people who should have loved him most betrayed him.
Book #2: Shadow. He was consumed with revenge… until Petra's feisty spirit and lush body took center stage in his heart.
Book #3: Tyree. After his entire world turned upside down, he fought through the pain but was adrift… until Grace's peril allows him to step up and command her love.
Book #4: Devolose. He believed himself a devil… until Tawny's steadfast commitment convinced him to see himself through her loving eyes.
Book #5: Drayke. Highborn Dr. Drayke's biology prevented him from lust… until Nova awakens his every carnal need.
Book #6: Axxios and Braxxus. Although the brothers are fated to share a mate, Axxios can't love… until Brianna unlocks his heart to seal the package deal.
Book #7: Sirius. This genetically engineered "Product" was broken beyond repair… until Aliyah's stubborn refusal to agree forces him to step into his own power.
Book #8: Dax. Dahlia can't forget the man she was engaged to marry before her abduction… until Dax's steadfast love shows her again and again that he can do more than fill the void… he can complete her soul.
Book #9: Beast. Neither he nor the little human, Aerie, are looking for more than bed-play… until they learn to laugh together, then save each other's lives.
Book #10: Ar'Tok. He doesn't believe his shameful past is worthy of forgiveness… until Star reminds him his future is in his own hands.
This box set contains the first eleven books in the beloved Galaxy Gladiators Romance Series by bestselling, Pinnacle Award-Winning author Alana Khan. They feature powerful alien gladiators and their passionate heart-connections with feisty abducted Earth females. Their journeys to love are never easy, but always satisfying when they find their true mates and bind their souls.